North Royalton Locksmith - Symptoms of Car Ignition Issues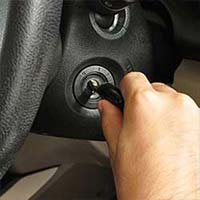 Gone are the days when cars could get hotwired easily. Thanks to new and improved technology, it is much harder for thieves to steal a car by altering the wiring. Nowadays, it is much more difficult for anyone to crack the built-in systems that start a vehicle. For newer models of cars to start, the key fob has to transmit the correct signals and the key has to be a perfect match to the pins inside the ignition.
You may think that the only purpose of your car ignition is to start the car and get it going. However, the ignition is much more important. Have you ever considered that your car ignition is a safety feature? Yes, it is considered a security mechanism. You have to access it correctly in order to get a favorable response. This is one reason why you should ensure that your ignition functions properly at all times.
Just as is the case with all manufactured products, a car's ignition may malfunction at some point in time. If you know the signs to look for, you may save yourself a lot of time, hassle and money as it relates to the replacement or repair of your ignition.
Here are some ignition issues that you may experience:
It is difficult to insert or remove your key
Before you consider this a problem, make sure that you turn your steering from side to side to check that it is not in the lock position. If the steering wheel is in the lock position, it may be difficult to insert, remove or turn your key in the ignition. Once you have checked this and the steering wheel is unlocked but you still have the problem, it is time to call your locksmith.
The ignition of a vehicle undergoes a lot of wear and tear and this issue is a sign that there has been a lot of wear and tear to the ignition. In some cases, the key may not be able to fit inside the ignition anymore. If you do not replace the ignition in a timely manner, you may end up experiencing electrical problems that makes your vehicle inoperable.  
It takes a longer time to 'start up' the vehicle
There are several reasons relating to your ignition that may make it difficult for you to power on your car. One of the most common reasons is that there the wear and tear to your ignition has resulted in damage to the ignition. If you have experienced this problem, you should call your locksmith immediately. If you delay fixing this problem, your car will eventually just start any at all.
Another culprit that may cause this issue with your ignition is your transponder key system. Hopefully, a quick reprogram of your key fob should solve this issue. If not, your locksmith will be able to assess the situation and provide you with an effective solution to your problem.
Even though the ignition cylinder turns and the engine cranks up, the car will not start
As soon as you experience this problem, check your auto theft system to ensure that you have taken the safety precautions. Some theft systems require certain procedures before the ignition can power the car. If this does not apply to you, a more complicated issue may be at hand. In some cases, you just need to reprogram the key. On the other hand, it may end up requiring other locksmith services. The best way to find out what is wrong is by contacting your local professional of choice, whether that's a locksmith or a mechanic.
The car does not start no matter how much you try
There are many reasons why this may be happening to your vehicle. The best way to pinpoint the actual cause is by getting your lock and security provider (or of course your dealership or mechanic) to assess the situation. This way you will be able to find out if it is a problem with your battery, a sensor or a problem with your ignition. If the problem is your ignition, you will have to replace it.
While you are driving, the engine stops
If your ignition switch is faulty, this can happen to you. As your ignition cylinder ages, be cautious that wear and tear may soon affect it. Corrosion in the ignition cylinder can cause voltage to decrease and in turn affect the performance of your engine. Sometimes there is not enough contact so the engine misfires or stumble. To prolong the use of your ignition cylinder, do not use heavy key rings or big bunches of keys in your car's ignition.
Resolving your ignition problems
Regardless of where you live or the make and model vehicle that you drive, ignition problems can happen to you. It is in your best interest to have a local locksmith that you trust just in case it happens to you. Having plans for this situation can save you a lot of time and hassle.
As you plan, ensure that you check the reputation of the locksmith company. Before you hire a lock and security provider, it always good to know what the charges may be like. Make sure the company has experience in dealing with car ignition systems and they have the required licenses and insurance. If anything goes wrong, you need to know that as a customer, you are protected.
If you happen to live in North Royalton, Ohio, North Royalton Locksmith is an excellent choice. They do not charge for consultations or price quotations and their services are available 24/7. All locksmiths employed with North Royalton Locksmith are certified professionals and have extensive experience in dealing with automotive ignition issues. Your satisfaction remains guaranteed with every service they provide. Moreover, they offer all their services at affordable prices. Call them today and find out about the ignition cylinder solutions that they offer. There is no obligation when you call.
We hope that this blog post has provided you with valuable information about issues that you may experience with your car ignition. Remember that professionals are the best persons to handle car ignition problems. Seek assistance from a certified automotive locksmith in your area.